Land Surveying
Horizons Engineering is a full-service land surveying firm serving northern New England. Since founding the surveying division in 2006, Horizons has expanded from a local New Hampshire firm, to a regional company licensed in Maine, New Hampshire and Vermont, and has become one of the leading providers in the region. Horizons surveyors support their own in-house engineering and environmental projects and also provide services to other consultants such as engineers, architects and planners, as well as private land owners and commercial, municipal and institutional entities.
Horizons utilizes modern surveying equipment such as robotic total stations, Global Navigation Survey Systems (GPS) as well as more traditional two-person operating systems, depending on the needs of the client and demands of the project site. This flexibility allows our surveyors to provide quality services in the varied terrain of New England above and beyond the current industry standards. Our surveyors are equally capable at small house lots, large wooded parcels and heavily developed commercial sites. Horizons focuses on a "field to finish" method of surveying, which allows the assigned personnel to work on all aspects of the project from land records research, to fieldwork, drafting and final plan preparation. All projects are completed under the direction of a licensed surveyor, who provides final review, quality control and certification.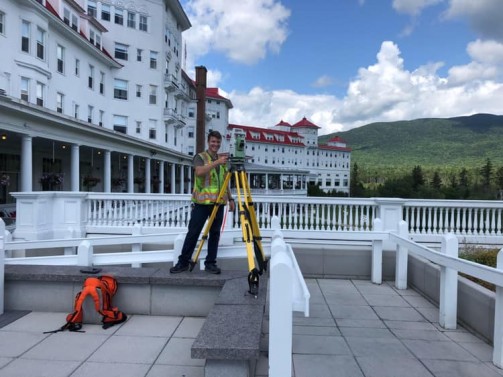 Horizons surveyors are experts in colonial state land records research, ALTA/NSPS Land Title Surveys, boundary retracement, existing conditions/topographic surveying, utility route/site surveys, construction layout and quantities, land use regulations, terrain analysis and mapping. We understand how complex boundary surveying in New England can be, and we have thorough knowledge of the applicable principles and laws regarding land boundaries, easements, rights of way and title issues. With the addition of Unmanned Aircraft Systems (UAS/drones) and underground utility location and characterization services, Horizons can provide a complete terrain analysis, to include both cadastral, surface and subsurface elements. When it comes time to present a project to a municipal review board or other public agency, our surveyors are experts in representing their clients' needs and project goals. Whether a simple lot line adjustment between two land owners, or a multi-unit resort development, we treat every project with professionalism and attention to detail.
surveying services include:
Boundary Retracements
Land Records Research & Expert Witness
Subdivisions/Lot Line Adjustments
ALTA/NSPS Land Title Surveys
Engineering Basemaps and Topographic Surveys
Site Surveys/As-Builts
Utility Route and Site Surveys for Wind, Solar, Electric and Gas Projects
Right of Way & Easement Surveys
FEMA Flood Hazard Mapping
Construction Layout & GPS Surveys
Utility Location & Characterization