Horizons Engineering Opens Two New Offices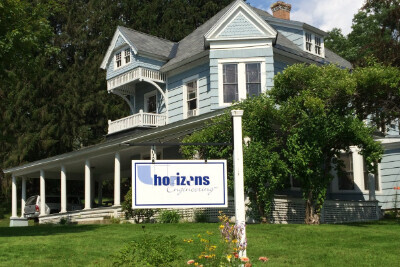 New Hampshire engineering firm opens two offices and adds managerial staff in Vermont and New Hampshire
APRIL, 2019 - Horizons Engineering, Inc. who provides land surveying, civil and environmental engineering in northern New England has expanded its offerings to Newport and White River Junction Vermont and has hired two managers to its team. The firm works with local and state government and has a thorough knowledge of the region, its people and geographic environment
of the area.
With this understanding, they are aware of the opportunities and challenges that projects face. An example of these challenges is the firm's involvement in Green Mountain Power's Kingdom Community Wind project, whose purpose is to provide clean, renewable wind energy to Vermont. The firm's involvement in this project is under the direction of Nathan (Nate) Nadeau, Licensed Surveyor and Survey Manager in Newport, Vermont. Nate has been responsible for the day-­?to-­?day land surveying activities associated with the construction of this project located in the town of Lowell. It was on a dairy farm situated along the Connecticut River in Lancaster, New Hampshire where Nate was born and raised. He was a graduate of White Mountains Regional High School and attended Lyndon State College in Lyndonville, Vermont and White Mountains Community College (WMCC) in Berlin, New Hampshire. It was at WMCC where he received initial training in land surveying. After briefly working in New Hampshire, he moved to northwestern Vermont where he worked for Pinkham Engineering (aka Summit Engineering) for the next 20 years.
In September 2010, Nate accepted a position as Survey Manager at the newly acquired Blais Surveying Company in Newport. Nate and his family relocated from Burlington to Waterford as a central point to their respective families and the Horizon's home offices in Littleton. Along with the northern Vermont wind project, Horizon's has been actively working on a variety projects throughout Vermont, including private boundary surveying, subdivisions, municipal work and engineering support. Jon Harrington is Senior Project Manager of Horizons branch office located in White River Junction. Jon's interest in Civil Engineering started when he was in high school, where he worked summer breaks at municipal and residential constructions projects in central Vermont. While attending college at Norwich University in Norwich, Vermont he worked in the summer as an engineering technician, in 1996 he graduated with a Bachelor of Science in Civil Engineering. Upon graduation, Jon continued to work in Vermont also in the State of New Hampshire. In his tenure, Jon has worked on a variety of civil engineering projects including water and sewer, stormwater and erosion control undertakings.
Horizons Engineering, Inc. provides a wide range of Civil and Environmental Engineering services including Project Management & Construction Services, Environmental Consulting and Due Diligence, Land Use Planning and Surveying and Environmental Permitting and Resource Management to its clients throughout northern New England. The diversity of the professionals at Horizons Engineering provides a comprehensive approach to problem-solving and value-­?added service.
Learn more at www.horizonsengineering.com.
####
Next Blog Post
Local Engineering Firm Hires New Senior Project Manager Littleton, NH, Release: September 17, 2018.  For Immediate Release Horizons Engineering, Inc., a Littleton, NH based civil and environmental engineering…